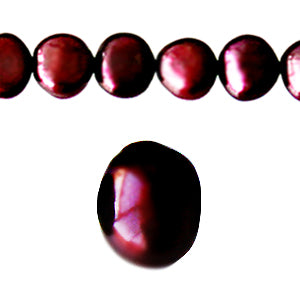 Freshwater pearls nugget shape cherry red 6.5mm (1)
Sold by : Vendu par 60
Sales unit : 60
Material : Freshwater pearl
Shape : Nugget
Color : Red
Width : 7 mm
Hole : 0.5 mm
A freshwater pearl or cultured pearl is produced by the human insertion of a bead and a tissue graft into a freshwater mussel. The mussel is then returned to the water and it covers the bead or graft with layers of nacre. Each mussel can produce up to 40 pearls therefore freshwater pearls are the most common in the market.

We have selected for you the best freswater pearls for a very affordable price! So don't hestitate, buy them now and make stunning necklaces!

Due to the nature of this product, all beads will be slightly different.